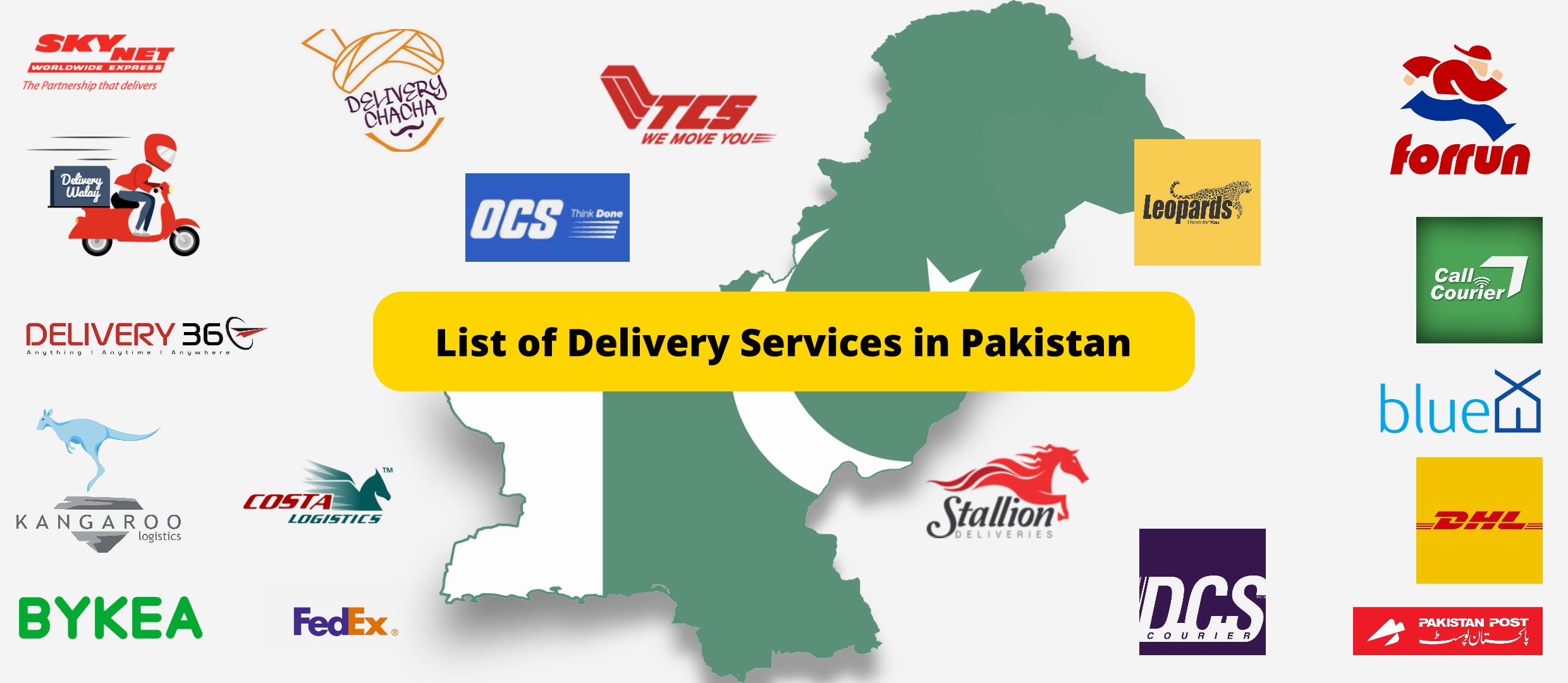 Reading Time:
3
minutes
These services provide door-to-door services to Pakistan's people wanting to send items to a local or international destination. Each one of them guaranteeing the safety of your products.
Here's a list of local, international, new, and established delivery services in Pakistan:
1. BLUEX: (National & International)
BlueEx offers cash-on-delivery services to many cities of Pakistan, delivering domestic and international shipments. They also provide the customers with an express delivery that ships the parcel within two days which is rather expensive.
2. SKYNET: (National & International)
Providing fast and reliable services to people from across the world have now become one of the best delivery services in Pakistan as well. The company was established in 1972, since then it has entertained many satisfied customers time after time with their outstanding services.
3. DHL: (National & International)
DHL is the first international door-to-door delivery service of the world, which was established in 1969. They started operating in Pakistan in 1982, making logistics more manageable and convenient for the people of Pakistan, just like the rest of the world.
4. BYKEA: (National)
With the opportunity of online tracking, bykea has introduced its parcel delivery services. This app only aids the people of Pakistan wanting to send items from one place to another within the premises of their city.
5. CAREEM: (National)
Similar to bykea, Careem is another ride-hailing service provider app that launched its delivery services in Pakistan. This app also allows one to send products within the boundaries of their city. Moreover, their rates are very reasonable without any compromise made on the provided services.
6. DCS: (National & International)
DCS is known to be one of the most trusted and established delivery services in Pakistan. This international courier company also provides the same day or overnight delivery services if the conveyance booking is made before midnight.
7. CALL COURIER: (National & International)
With a team of highly trained professionals in the field of logistics, call courier provides remarkable shipment services. Their customer care representatives are available 24/7 to guide you through the entire process and answer all your queries. Additionally, they offer COD services to their customer to make their experience better and easier.
8. FORRUN: (National)
Forrun is a highly efficient delivery service in Pakistan that facilitates its people with fast delivery services within the country. People can send any document or parcel anywhere in Pakistan through this trusted courier service. Furthermore, Forrun also assists with bulk shipments for small and enormous businesses at an affordable rate.
9. FEDEX: (National & International)
FedEx is one of the most known delivery services in Pakistan and worldwide. This company not only delivers parcels, but it additionally delivers joy and happiness to different people from about 220 countries. Their bundles are consistently on schedule, taken care of by the proficient staff, and conveyed with care to the desired destination.
10. LEOPARDS: (National & International)
Leopards allow its valued customers to send their documents and other packages to domestic and international locations. Their online tracking system saves you the time and hassle of calling and checking for the parcel's whereabouts, making it easier for you to track your parcel while it's being delivered.
11. M&P: (National & International)
They provide unmatched cash-on-delivery and express delivery services in Pakistan. The people of Pakistan can conveniently send and receive their parcel from anywhere in the world without any stress or hassle with M&P. They aim to satisfy their customers the best way possible with their excellent delivery services.

There are many other delivery services in Pakistan like costa logistics, delivery 360, OCS Pakistan, Delivery Chacha, Pak-Asia courier services, Pakistan Post and Trax, etc. Some of these provide only domestic delivery services, and others benefit the people with both national as well as international services. All in all, each one of these delivery services provides exceptional services to its customers.