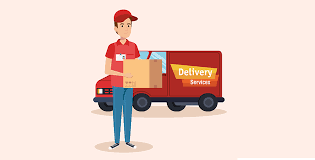 Reading Time:
3
minutes
In today's world, excessive use of the internet has given birth to unnecessary desires. However, the pandemic at hand has greatly evolved how people shop online. From groceries to toiletries and even expensive tech, people now prefer getting all items delivered to their doorstep.
Sometimes the delivery of such items becomes the problem, making you take the backseat because they are either too expensive or time-consuming which eventually kills the purpose of ordering the items online in the first place. Nonetheless, some delivery services in Pakistan can deliver your packages safely and securely, both internationally and locally.
In this article, we have listed down five delivery services that have marked their excellence in the region over the past years:
DHL
DHL is an international German courier company which is known far and wide for providing well-organized delivery services in Pakistan. The company aims to deliver the products from one place to another with excellent efficiency while ensuring the quality and appearance of the work aren't undermined in any way.
Moreover, DHL Express provides you with a service that can send your parcels from anyone to any place in the world in little time with security and protection. Once you have handed over your box to DHL, sit back and relax, as you have chosen the right people for this job! The package will be delivered without any harm or destruction.
TCS
TCS is a Pakistani organization with its mere focus on delivering across the country and taking care of logistics. This delivery service is located in Karachi, the city of lights. It was established by a former Pakistan International Airlines (PIA) flight engineer, Khalid Nawaz Awan, in 1983.
Covering more than 3,500 places around the world, TCS guarantees a protected, quick, and dependable support for its clients. TCS is right now operating with more than 225 vehicles. TCS Logistics is the third biggest satellite monitored fleet management organization in Pakistan.
Leopard Courier
Leopard Courier is another reliable delivery service which was built in 1983. It is a carrier organization that works principally in Pakistan. With more than 1,036 strategically placed workplaces serving the whole nation through 164 significant center points, it is doing very well. For deliveries with less urgency attached to them, it has given shipping administrations practical and genuine solutions. It also provides global transportation benefits.
Pakistan Post
Pakistan Post is a state undertaking that positions as Pakistan's biggest postal operator.
The organization has 44,000 representatives, 5000 vehicles and "door to door" fleet from over 13,000 mail centers providing services to more than 50 million people. Pakistan Post works under the "Postal Services Management Board" to convey a full scope of delivery and logistics for clients.
The organization also offers other services such as Postal Life Insurance and Pakistan Post Savings Bank etc. This delivery service in Pakistan additionally works for the benefit of the government bodies, by going about as an assortment point for assessment and service bills.
FedEx
FedEx is an American global delivery organization that originated in Memphis, Tennessee. It is one of the best-known delivery services worldwide due to its highly trusted, extremely organized and exceptionally trained team providing quality services.
One of the reasons why FedEx has won over the people of Pakistan is it's on-time delivery and zero damage to the products. The company makes sure none of their customers are unsatisfied. Customer care is always there to assist you with your queries at any given time.
These delivery services in Pakistan have been making the life of Pakistanis easier, allowing them to get anything from around the world conveniently and in no time. With these companies, there is no need for you to worry about your packages as they will get it delivered to you without any damage or alteration.