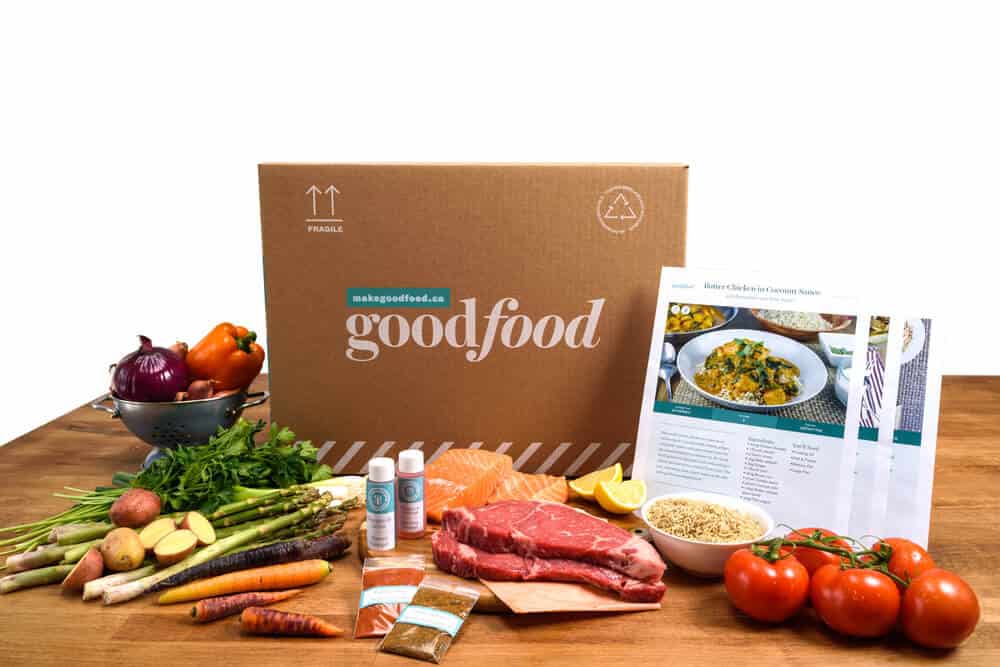 Reading Time:
3
minutes
Coming home to a deliciously cooked meal after a long tiresome day is like a dream come true. We all are starving when we get home after a long day at work dealing with clients and demanding bosses. Each one of us is drained, no matter how easy or hard the job is.
None of us has the time or the power to run to even the nearest grocery store to get supplies. Moreover, if you have the responsibility of an entire household on your shoulders, then it gets even more stressful. And getting groceries to prepare food for them or even just yourself looks like the biggest task that none of us have the mental or physical capacity to do so.
Well, we have the perfect solution for Canadians looking for a way out from this massive responsibility of COOKING. There is no need for you to stress anymore, visit Good Food, and benefit from their food delivery services.
What is Good Food?
Good Food aka makegoodfood.ca is a Canada-based grocery, meal-kit, and ready-to-eat meal delivery service. They help you get groceries delivered to your doorstep without having to go anywhere.
Their services not only include groceries, but they provide proportioned ingredients along with easy-to-cook recipes. With the help of Good Food, you can easily prepare a meal in about 15 minutes without facing any difficulty. Each of their recipes is known for its appetizingly delicious taste and effortlessly easy to make recipes.
They have more than 200,000 subscribers who benefit from their delivery service regularly and have confided trust in their recipes, fresh ingredients, and their deliciously cooked meals. Good Food with its headquarters in Montreal, Quebec, has recently opened another hub in Calgary, Alberta.
All the meals prepared at Good Food are cooked and assembled by some of the most professional chefs, who are best at what they do. This is why thousands of people from around Canada order their services and enjoy the most mouth-watering ready-to-eat meals as well as proportioned meal kits. Furthermore, each and everything delivered to your doorstep by Good Food is fresh and healthy to consume.

Here's what you need to know about Makegoodfood.ca:
Before placing an order with Good Food, here are some points that will help you make better choices and help you decide:
Where do they deliver?
Good Food delivery services are available in all the provinces, except Newfoundland, and Labrador. You can quickly get your meal-kits, groceries, or pre-prepped meals delivered anywhere you want, be it your home or your office.
Their services are currently available in Alberta, British Columbia, Manitoba, New Brunswick, Nova Scotia, Ontario, Toronto, Prince Edward Island, Quebec, and Saskatchewan, etc.
How long does their Food last without refrigerating?
Whether you are available to collect the delivery or not, Good Food deliverers make sure that each product reaches you safe and fresh. Therefore, they contain all the products in a cold-box which keeps food cool for 24 hours without a refrigerator. Hence, there is no need to worry about your food getting spoilt in the heat or otherwise.
Do they have Vegan-friendly options?
One of the best things about Good Food is that they have a meal plan for everyone. They have vegetarian, dairy-free, gluten-free, and low-carb meals available for a single person as well as families. All you have to do is choose a meal plan that suits you.
What days do they deliver?
Good Food deliver all days of the week. However, you have to choose the day you prefer for your groceries and Food to be delivered. To get your deliveries on Sundays, Mondays, Tuesdays, and Wednesdays, you have to pace an order before 11:59 pm (EST) on Wednesday. And for deliveries on Thursday and Friday, place an order on Saturdays before 11:59(EST). Moreover, you can easily skip a week if you want, without much hassle or difficulty.
The Bottom Line:
Good Food Canada is the best online service to get your meals and groceries without stressing much about them. Each box is filled with organic and fresh ingredients, and they also give you the option to choose from a variety of meals each week.
Good Food does not charge any additional delivery charges, and their meals are priced for as low as $10. Moreover, Good Food profoundly cares about their client's health and safety; therefore, they take maximum precautions during this pandemic, and each of their riders wears masks and gloves. They also offer contactless delivery to increase safety and security.